Blue Chip SUP-Polo for novices

SUP-Polo for novices
SUP-Polo is great fun and a great way to improve your board skills.
At Thames Sailing Club we have a full-size SUP-Polo arena and have regular sessions
specifically designed to introduce SUP-Polo novices to this fun aspect of SUP.
All skill levels are welcome and can be accommodated in the Saturday sessions.
We welcome newcomers, individuals and teams to come down
to the Thames Sailing Club to enjoy a SUP-Polo introduction on an informal basis
to develop and improve their skills.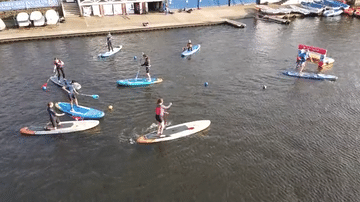 These sessions include the use of the clubhouse, car park & changing rooms.
All you need to bring with you is your inflatable board, paddle & leash a sense of fun and a change of clothes.
(we have some spare Polo paddles)
What is the cost
The SUP-Polo training sessions are a Thames Sailing Club activity managed by Blue Chip Super Club.
The cost for these novice training sessions is free to Blue Chip Super Club and Thames sailing Club members.
However, for non-club members, a charge of £5 per person will be made at the start of the session.
Sessions include SUP-Polo coaching and use of the Clubhouse, car park, changing rooms
Novices to SUP-Polo
We have some novice sessions to introduce SUP-Polo to this fun aspect of SUP.
These sessions are only for "new players" trying for the first time or those with very little experience or tournament play.

These novice session dates can be found on the
"Sup-Polo Training Registration" page.
Just click on the link below
---

PRIOR BOOKING IS NOW ESSENTIAL
Please register your place by clicking on the green Registration button below

Final details including timings will be sent to those that complete and submit the registration form
---

The official NSPL Arena Pitch will be deployed on Saturday 6th April 2024 and then every two weeks as set out below
Other dates may also come on stream
The facilities at the NSPL Arena Pitch at TSC include Club Car Park, Changing Rooms and Club Bar
Cancelations for weather & flow.
We check the forecasts on Friday (the day before)
Rain:-
· We don't cancel for light rain forecast
· We do cancel for a moderate to heavy rain forecast
Wind:-
· We don't cancel for wind forecast up to 15 mph

· We do cancel for wind forecast above 15 mph
Flow:-
· We do cancel if the River flow rate exceeds 120 m³/
· Click here to check the flow rate

For more information contact:-
info@SUP-Polo.com or info@SUPolo.co.uk or info@WorldSeriesSUPolo.com

---
---