Naish All-Round / Crossover 12' x 34" Winsup
What's in the box
»
iSUP board
»
3 Part Ajustable breakdown paddle
»
Industry Standard US box Fin
»
Double Action Pump

»
Blue Chip Heavy Duty coiled SUP Leash

»
Waterproof Key Pouch

»
Repair Kit

»
Carrying rucksack

»
Blue Chip Inflation Gizmo
What else do you get with your board package
»
FREE1 Year International Warranty
»
FREE standard mainland delivery
»
FREE £25 discount voucher Click Here for details

»

FREE SUP Lesson for you or a friend

»
A heavy-duty leash fixing on the tail
»
A central carrying handle built into the deck
»
Industry standard Inflation valve on the nose
»
Luggage Net
Naish boards - lighter, stronger, faster with a new performance construction & shapes
The NAISH BOARDS GIVE
performance by design:
The Crossover delivers great stability whether you're uphauling a sail or paddling. It features the same fast and efficient shape as our Glide inflatables and allows you to explore as far on the water as you like. The Crossover offers enhanced performance, extra capabilities and faster paddling than entry level SUP boards while remaining very stable and easy to use.
12'0" x 34" x 6" (319 L) is ideal for paddlers/sailers up to 265 lbs/120 kg.
Click here for travel windsurfing rigs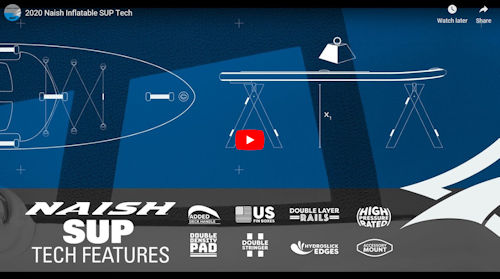 We can send these boards to any address in the UK, Europe and rest of the World with ease.