Naish 2020 One-Design 12'6 x 30
a new look for 2020
What's in the box
»
iSUP board
»
3 Part Ajustable breakdown paddle
»
Industry Standard Quick Fit Fin
»
Double Action Pump

»
Blue Chip Heavy Duty coiled SUP Leash

»
Waterproof Key Pouch

»
Repair Kit

»
Carrying rucksack

»
Blue Chip Inflation Gizmo
What else do you get with your board package
»
FREE1 Year International Warranty
»
FREE standard mainland delivery
»
FREE £25 discount voucher Click Here for details

»

FREE Paddle Technique Coaching Session

»
A heavy-duty leash fixing on the tail
»
A central carrying handle built into the deck
»
Industry standard Inflation valve
»
Luggage Net
Naish boards - lighter, stronger, faster with a new performance construction & shapes
| | | | | | | | | | |
| --- | --- | --- | --- | --- | --- | --- | --- | --- | --- |
| | Length | Width | Thickness | Volume | Rider Weight * | Board weight ** | Package value | Our Price | |
| Classic | 12'6" | 30" | 150 | 265 | 104 kg | TBA | £1099 | £899 | |
| Alana | 12'6" | 30" | 150 | 265 | 104 kg | TBA | £1099 | £899 | |
| | | | | | | | | | |
| | | | | | | | | | |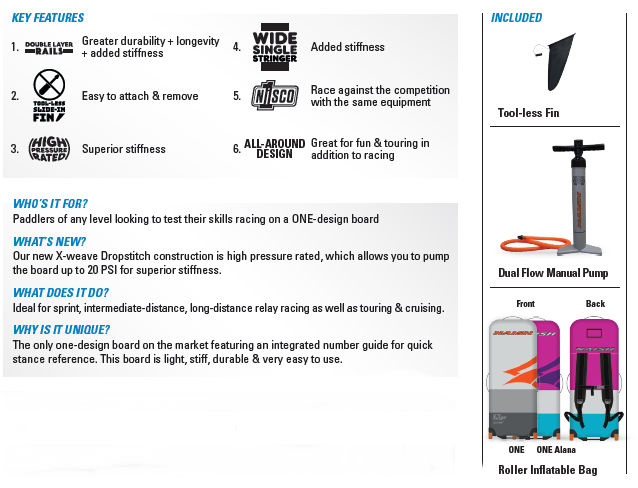 Product overview
The NAISH BOARDS GIVE
performance by design:
ONE Inflatable 12'6"
"World's Best-selling Inflatable SUP"
The ONE 12'6" is hands down, the international best-selling inflatable SUP board for all-around cruising, long-distance touring
and N1SCO one design racing. Its sleek outline is 30" wide and 6" thick for incredible rigidity, stability and speed. It also has an
integrated number guide on the deck pad for referencing proper stance position.
N1SCO stands for "Naish International SUP Class Organization", which is a one-design racing class where all riders compete
exclusively on the ONE 12'6". N1SCO competitions include sprint, intermediate-distance and long-distance racing, as well as
team relays that are accessible for any level rider. They are competitive, fun events that are easy to follow, thrilling to watch and
a great social experience for the whole family. Ideal for riders up to 230 lbs /104 kg.

ONE Alana Inflatable 12'6"
The "World's Best Selling Inflatable SUP" now sports a bold, female friendly design for those just getting into the sport up to the
most avid SUP racers. Engineered to build speed and track straight for long-distance tours and N1SCO one-design racing, this
board is also a great fit for all-around cruising. Stable and rigid at 30" wide and 6" thick, the ONE Alana features a second layer
stringer and double rail construction, which creates a super strong platform without the unnecessary weight. Training is built
right into the framework with an integrated number guide which helps riders reference proper stance positions for starts, long
paddles and buoy turns. Stay ahead of the crowd with the premium design that's built for speed. Ideal for riders up to 230 lbs /104 kg.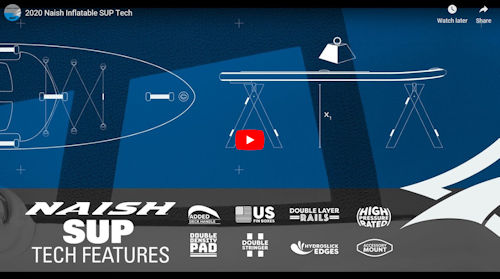 We can send these boards to any address in the UK, Europe and rest of the World with ease.